FAQ
How do I use Miracle Frooties?
Miracle Frooties are easy to use: Dissolve one 350mg tablet or half a 600mg tablet on your tongue. The more the tablet coats your tongue, the greater the effect will be, so we like to mash it around on our tongues while dissolving. Once dissolved, taste a variety of acidic foods and enjoy the sweetness! When the effect wears off in 15-20 minutes, your taste buds will return to normal.

A miracle fruit tasting is more fun with friends! Host a "Miracle Fruit Tasting Party" and your guests will talk about it for weeks.

Please visit our Health Benefits page for more uses.
How long does the effect last?
The effect typically lasts 15-20 minutes; however, it depends on an individual's tastebuds, the strength and amount of extract that covers the tongue, and the temperature, type, and quantity of food eaten. Hot liquids or foods may cause the effect to wear off more rapidly, as may milk.
When will my Frooties arrive?

Orders are processed within one business day. Once shipped, U.S. orders should arrive in 3-7 business days. Most international orders will arrive within 10 business days of the ship date, but we ask customers to allow up to four weeks as customs can be unpredictable.

If you need a product rushed, we offer Priority shipping at checkout. We may be able to do overnight shipping on orders over $100 if you contact us.
What does a Miracle Frootie taste like?
The Frootie itself has a weak flavor similar to a dried cranberry.
Does miracle fruit have any alternative names?


The miracle fruit or miracle berry is also called Synsepalum dulcificum, Miraculous Berry, Frutto dei miracoli, Fruta maravillosa, Fruto milagro, Frutamilagrosa, Sideroxylon dulcificum, Mirakelfrukten, Mirakelfrukt, Mirakelbaer, Wunderbeere, Mirakelbes. It should not be confused with the açaí berry, which is quite different and has no taste-altering properties.

Is miracle fruit safe/does it have any side effects?

Miracle fruit has no known side effects other than its temporary flavor alterations. However, eating excessive amounts of acidic or spicy foods under any circumstances can cause heartburn, so taste these foods in moderation. Children should try the miracle fruit under supervision to avoid tasting things that are not meant to be eaten, so store Frooties out of their reach.

Miracle fruit has been used for centuries in Africa and for decades in the US and Asia. In Japan, miracle fruit tablets have been on sale since 2006. Miracle Frooties are made in a pharmaceutical clean room, free of any germs or dust. They contain no artificial additives (such as colorants or preservatives).

What is your return policy?
If you are not satisfied with your Miracle Frooties, just send them back no more then 10 days after receiving your package to the address on the envelope. If most of the tablets are intact, we will provide a full refund.
Does miracle fruit work on all foods?
Miracle fruit is intended to sweeten the sour taste and bring out the flavor of certain acidic foods, and will have no effect on foods that lack acid. Some foods will taste worse under the miracle fruit's effect! While many enjoy the effect miracle fruit has on dark beers (giving them a chocolatey flavor), the sweetness added to a light beer is strange, and pineapple becomes too sweet for most. Write us about your own experiences with different foods!

What foods are good and/or interesting with the miracle fruit?


We haven't tried all of these yet! Do you have suggestions?
Our favorites:
Lemon
Lime
Grapefruit
Strawberries
Salt and vinegar potato chips
Sour cream

More Fruits & Veggies:
Mango
Grapes
Kiwi
Peach
Granny Smith and other sour apples
Pears
Plum
Oranges & orange juice
Pineapple
Watermelon
Durian or jackfruit
Any unripe acidic fruits
Tomato
Carrot
Radish
Sour pickles
Blueberries
Blackberries
Raspberries
Cranberries
Currants
Brussels sprouts

More foods:
Vinegar
Tabasco or other hot sauce
Chili sauce
V8
Ketchup
Mustards
Goat cheese
Certain aged cheeses
Lettuce

Experiment by adding sour foods to other foods!
Salad with a splash of lemon and/or vinegar instead of dressing
Broccoli with a splash of lemon
Oyster with lemon juice
Aloe vera with lemon juice
Unsweetened tea with lemon or lime
Coffee with a few drops of lemon

Try these low-sugar or sugar-free dessert ideas! (no sweeteners necessary)
Homemade sugar-free key lime pie
Homemade sugar-free rhubarb pie
Homemade sugar-free strawberry shortcake or strawberry topping
Low-fat sour cream instead of whipped cream
Natural yogurt
Some chocolates (not baker's; we haven't found one that works - have you?)

Hosting a party? Try these drinks and mixers:
Guinness; also try with a drop of lemon sorbet
Any dark beer
Cheap red wine
Cheap tequila
Tonic water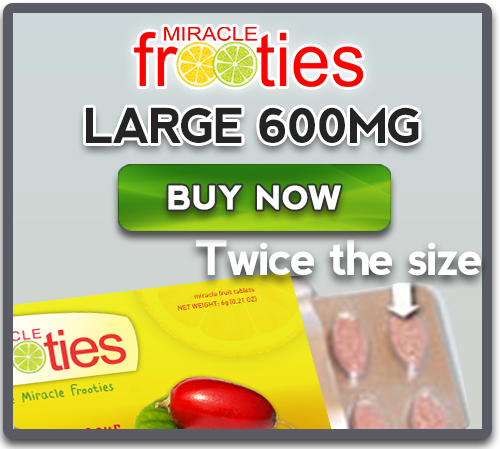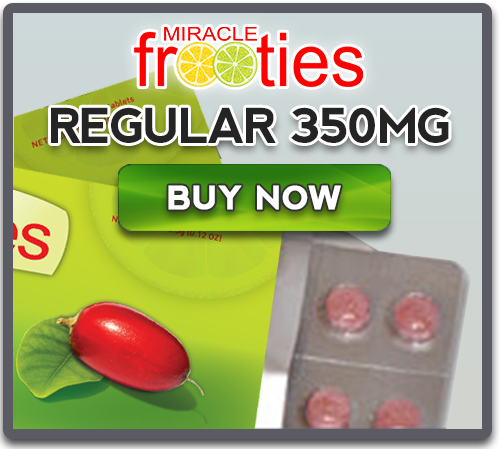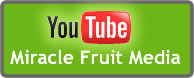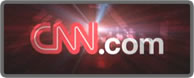 CNN - With Dr. Mike Cusnir - Miracle Fruit and Chemotherapy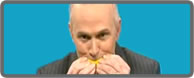 Chicago - Miracle Fruit Flavor Tripping Party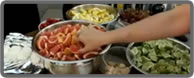 New York Times -
Riding a Flavor Trip